In the 1960s the seeds were planted: a gathering momentum to strengthen local government and voluntary community involvement in supporting the social welfare of citizens.
In 1969 the National Council of Churches (NCC) instigated its Interview 69 study groups, an innovative adult education initiative widely endorsed by civic leaders of the day, including Mr Des Black, then Mayor of Palmerston North.  Interview 69 encouraged nationwide discussion and debate on how best to find solutions to social and community issues.
At a local level leadership was given by Mr Ken Nairn, Town Planner at the time.  Mr Nairn could see beyond the 'nuts and bolts' issues of expanding the physical infrastructure of the local authority (roads, drains, buildings etc) to the importance of having a social vision.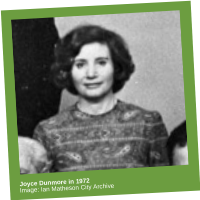 Mr Nairn encouraged Mr Crawford, city research planner, and Mr Jim Park, a retired Presbyterian minister, to work on scholarly social research reports on key people issues.  The following titles illustrate the range and focus of this work: Maori Population of Palmerston North 1951 - 1966, Urban and Rural Population of the Manawatu Region, Industrial Employment and Occupation, Senior Citizen Flat Location and Shopping in Palmerston North, Participation in Recreation Groups, Clubs and Societies.
At the time, Council debates focused on the development of a new Civic Centre.  The enormous, projected cost of $4 million and its likely location in relation to the Square, took up more debate, time and energy, than attending to action proposals arising from the reports.  This disinterested observer from the latish 90s can only reflect that 'nothing changes'; large projects, such as new buildings, usually take precedence over people concerns!
Nevertheless, on November 9 1970, Mr Jim Park was appointed as first City Planner, a position he held throughout 1971.  Other persons advocating a more active Council role in people services were city councillor Joyce Dunmore, and social welfare consultant and family counsellor, Mervyn Hancock.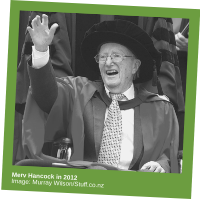 In mid-1970 Councillor Dunmore set up 'shop' in council chambers, offering advice on social welfare problems. A key issue was what she termed housing 'profiteering', citing examples of elderly people paying rents for  living in 'horrible' houses and part-houses (Evening Standard, 5 June 1970).
About the same time, 2 June 1970, Mr Hancock wrote to the local body advocating the development of a social service department within the City Council.
Outside the Council, there was growing support for more integrated and cooperative endeavours among the wide range and number of voluntary groups - 67groups were listed in a Directory prepared by Jim Park.
A public meeting was called 9 August 1971 to form a social welfare council.  The meeting was attended by 71 representatives of local organisations, and a motion was carried to set up an initial Steering Committee of 12 persons, who were to report back not later than November 1971.
A draft Constitution was ready and presented to a 18 October meeting at All Saints' Church, with the suggested title of 'Community Services Council' proposed.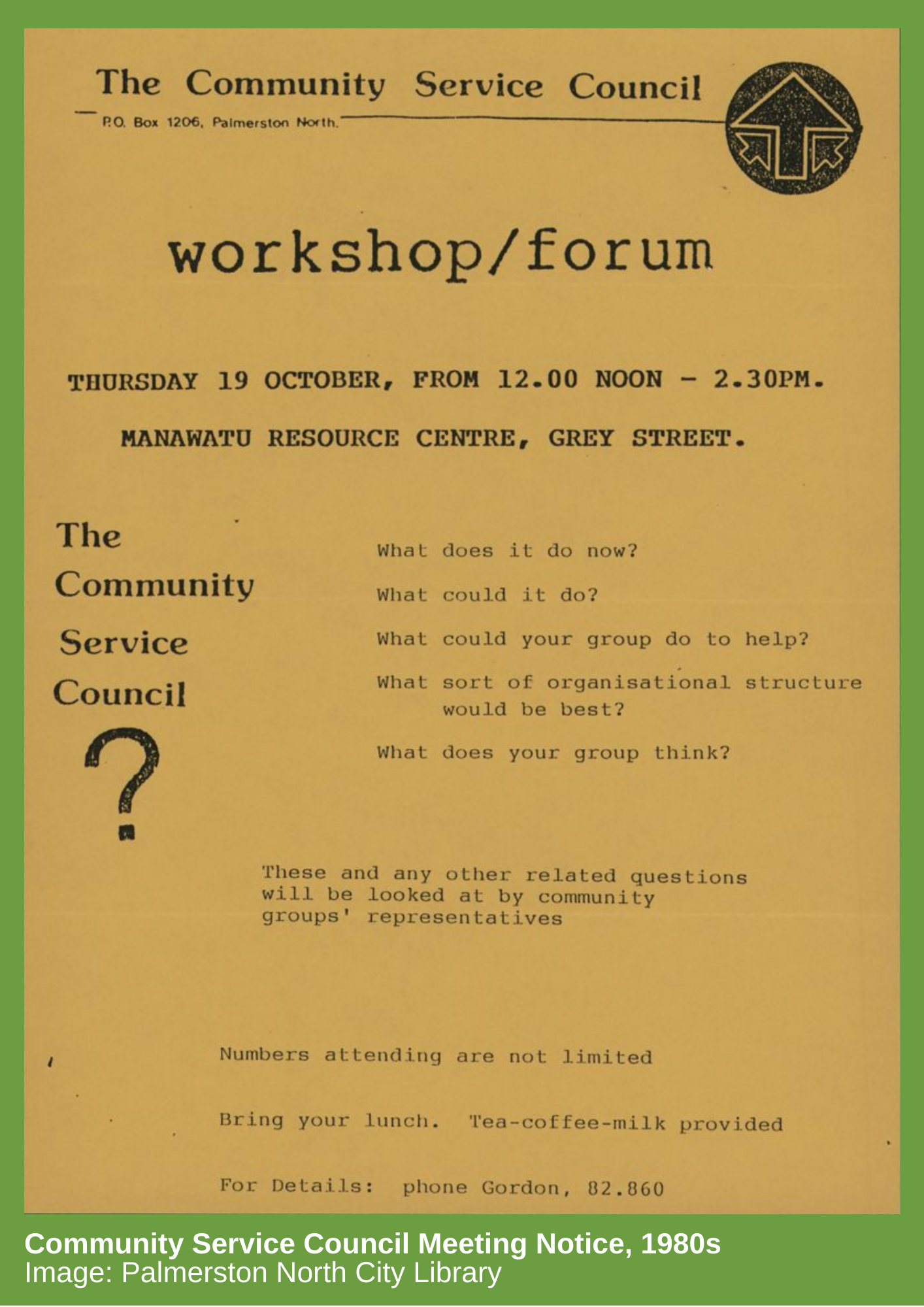 The meeting agreed that the Steering Committee would serve as interim executive of the Community Service Council for six months, and that the Annual General Meeting of April 1972 would endorse the Constitution.
Mr Park, having been accepted to a church appointment in Wellington, retired from his position in November 1971, with the recently formed Community Service Council as a significant achievement.
Within the Council, the momentum to find more formal and permanent structures to support welfare concerns marked its launching date as 1974, with the appointment of Mike Smith as the first Community Service Director.
The Community Service Council network continued and maintained an active programme steered by a voluntary collective or committee, holding monthly meetings.  The first appointment of part-time paid staff occurred in 1991, with an office established on the second floor of the Square Edge Arts Centre soon after. 
The above historical notes prepared by John Thornley, with thanks to Ian Matheson, City Archivist, in 1996
(taken from: John Thornley (Ed).  (1996).  Sharing our Stories.  Palmerston North, NZ: Community Services Council).
In 2011, The Community Services Council moved into a purpose-built office in Community House on King Street, and in 2012, that building was named Hancock Community House in honour of Mervyn Hancock.
In 2021, we celebrated 50 years of operation, and in 2022 we adopted a new name: Te Pū Harakeke—Community Collective Manawatū.